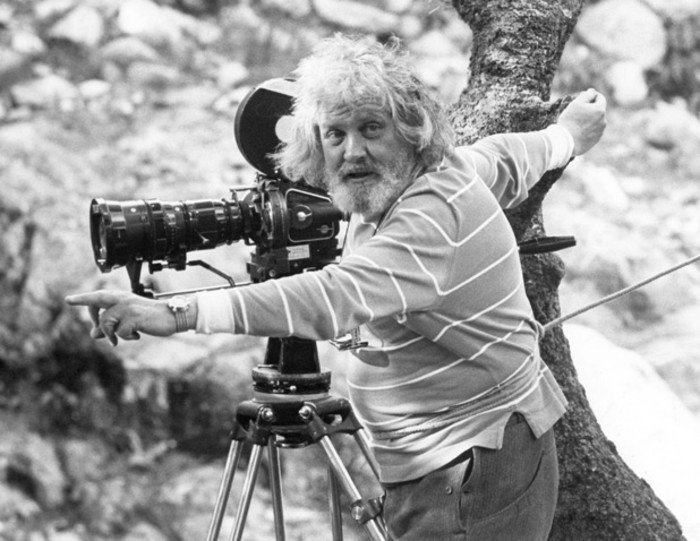 Ken Russell
"Born in 1927, Russell was, in his youth, a sailor, a ballet dancer, a photographer, and he served in the RAF. In the 1960s, he shocked BBC viewers with a series of feature-length documentaries for television about 20th-century composers. One of his first cinematic films, Women in Love (1969), an adaptation of the D. H. Lawrence novel, extolled the virtues of an amorous instinct that violated social norms. Its ecstatic images of both female and male nudity have been associated with the hippy culture of the era. Starring Oliver Reed, Alan Bates, and Glenda Jackson, Russell was nominated for an Oscar for Best Director for the film, which is recognized as his best work. 'What is your next film going to be about?' asked the producer. 'When he found out that it was going to be about Tchaikovsky, he looked stunned,' says Russell. 'I had to explain to him that it was going to be the story of a homosexual who fell in love with a nymphomaniac. They gave me the money immediately.'" (Tadeusz Sobolewski, "Gazeta Wyborcza")
Film index of the section Retrospective: Ken Russell
Ken Russell was born in 1927 in Southampton in the south of England. In addition to being a director, he was a photographer and dancer, and he also made cameo appearances in many of his films. He began his adventure in cinema when serving as a professional soldier in the British Royal Air Force. In the 1950s, he began directing documentary films for the BBC, and he made his first feature film, French Dressing, in 1963.
His best-known film is Women in Love, from 1969, starring Oliver Reed, Alan Bates, and Glenda Jackson. Jackson won an Oscar for her performance. In addition, the film was nominated for three other Academy Awards for Best Director (for Russell), for Best Cinematography, and for Best Adapted Screenplay. The film, which also won a Golden Globe, was based on a novel by English writer D. H. Lawrence. Set in the 1920s, it tells the complicated love story of four protagonists: the sculptress Gudrun is having a love affair with Gerald, the son of a local businessman; Gudrun's sister, in turn, a teacher named Ursula, is in love with Rupert, a guardian at the school; meanwhile, Rupert spares no effort to seduce Gerald.
Russell's better-known film credits also include The Devils (1971) and Altered States (1980). He is also known for making films that were inspired by the lives of well-known artists, including a number of composers: Mahler (1974, nominated for the Palme D'or at Cannes), Lisztomania (1975) and The Music Lovers (1970, about Pyotr Tchaikovsky, starring Richard Chamberlain). In 1972, he made the film Savage Messiah, about the relationship between French sculptor Henri Gaudier and Polish writer Zofia Brzeska.
"His films launch a powerful machine of cinematic imagination, seduce with their imaginative ingenuity, attack the viewer with their emotional intensity and flamboyant, 'operatic,' 'baroque' style, the basis of which is exaggeration – in the actors' behavior, in their performances, in the intensity of their on-screen movements, the richness of the set design. This all serves to balance the anarchistic, surreal humor that is reminiscent of Roland Topor and Monty Python. Russell's cinematic style can at best be described as flamboyant, which can simultaneously mean gaudy, exaggerated, eccentric, but also intense, fiery. These are exactly the sorts of films that Russell used to make – although his films vary widely, we find in each one of them the very same intensity, the same wealth of bizarre styles." (Jakub Majmurek, dwutygodnik.com)
"He was fascinated by the topic of madness. In Altered States, he told us the story of a scientist who performed experiments on his own mind. In The Devils, he told the story of the possessed nuns at Loudon. He shocked us with his vision. He showed violence, nudity, he studied human sexuality. His films often portray topics related to homosexuality, though he himself was married several times and had five children. In 1969, he cinematized Women in Love, D. H. Lawrence's novel about two sisters who were artists living in Great Britain following World War I. He had a tremendous imagination, and he loved to experiment. The British critic Mark Kermode wrote this about him: '[he] proved that British cinema didn't have to be about kitchen-sink realism.' He taught film direction throughout the last 15 years of his life. In 2007, he was persuaded to take on a role on Big Brother, though he left after four days, stating: 'I don't want to live in a society ruled by hatred.'" (Barbara Hollender, "Rzeczpospolita")
The program of the retrospective will include the following films, among others:
1967 Billion Dollar Brain
1969 Women in Love
1970 The Music Lovers
1971 The Boy Friend
1972 Savage Messiah
1974 Mahler
1975 Lisztomania
1977 Valentino
1980 Altered States
1984 Crimes of Passion
1986 Gothic