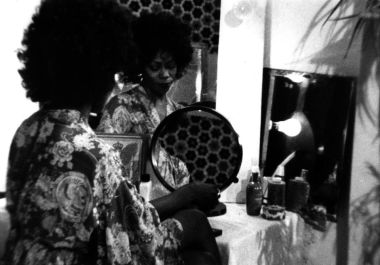 Laura Mulvey
Born in Oxford in 1941, Laura Mulvey studied History at Oxford University. In 1975 she published 'Visual Pleasure and Narrative Cinema', a highly influential psychoanalytic feminist polemic on the voyeuristic systems of spectatorship found in Hollywood film.
Film index of the section Retrospective: Laura Mulvey
Mulvey made six films with Peter Wollen that attempted to counteract these patriarchal structures including Riddles of The Sphinx (1977), Frida Kahlo and Tina Modotti (1982) and The Bad Sister (1983). She has written extensively on Sirk, Godard and Hitchcock, and remains a pre-eminent authority on film theory. Her recent book Death 24 Times a Second looks at the impact of new media technologies on shifting modes of film spectatorship. She is currently Professor of Film and Media Studies at Birkbeck College, University of London.

Filmography:
1974 Penthesilea: Queen of the Amazons (wspólnie z Peterem Wollenem)
1977 Riddles of the Sphinx (wspólnie z Peterem Wollenem)
1980 AMY! (wspólnie z Peterem Wollenem)
1982 Crystal Gazing (wspólnie z Peterem Wollenem)
1982 Frida Kahlo and Tina Modotti (wspólnie z Peterem Wollenem)
1982 Bad Sister (wspólnie z Peterem Wollenem)
1994 Disgraced Monuments (wspólnie z Markiem Lewisem)