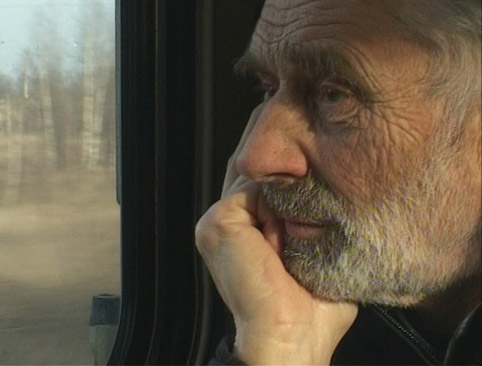 Daniel Szczechura
Screenwriter, visual artist and director of animated films, cut-off animation and documentaries, lecturer. Born on the 11th July 1930 in Wilczogęby, he graduated from the Faculty of Art History of the University of Warsaw (1958) and Cinematography Department of the National Film, Television and Theatre School in Łódź (1962). He spent two years (1951-52) studying at the Warsaw Academy of Fine Arts. Co-founder of the Warsaw Student Satirical Theatre (STS), where he was involved as a stage designer.
Film index of the section Retrospective: Daniel Szczechura
In the 1950s he made about a dozen amateur 16 mm films. These films received many awards and special prizes. Since 1961 he was involved in the Se-Ma-For small film form studio in Łódź (between 1963 and 64 he made two films as Karol Wirten). He co-operated with the Anima-Pol Film Studio. Author of the animations for the feature film by Marek Piestrak Commander Pirx's Test (Test pilota Pirxa - 1978). In The Top List Love (Miłość z listy przebojów - 1984) by Marek Nowicki he acted as a member of the "theatre". Since 1970 – a lecturer at the Warsaw Academy of Fine Arts (since 1988 – professor extraordinarius of visual arts), where he ran the Animated Film Studio at the Faculty of Graphic Arts. He was the artistic supervisor of The Programme (Program - 1990) by Joanna Żamojdo, Lycanthropy (Lykantropia - 1981) by Piotr Dumała, Unfaithful Portrait (Portret niewierny - 1981) by Ewa Bibańska, Within the Walls (W murach - 1987) by Ewa Ziobrowska, Survival Opera (Opera ocalenia - 1998) and A Gentleman's Affair (Romans dżentelmena - 2000) by Tomasz Kozak. He gave lectures at the Faculty of Radio and Television at the University of Silesia in Katowice, but also at universities abroad, e.g. the Royal Academy of Arts in Ghent and Emily Cart College in Vancouver. Founding member of the Polish Filmmakers Association; from 1970-73 – a member of its General Board. Between 1982 and 83 – deputy president of the Association Internationale du Film d'Animation (ASIFA). The main character of the second episode of the TV series by Jerzy Armata Anima (2000) and the documentary by Maciej Giżycki The Journeys of Daniel Szczechura (Podróże Daniela Szczechury - 2005).

Selected filmography
1955 Spojrzenia / The Looks (kr.m., tylko zdjęcia/ short film, cinematography only)
1957 Stadion / The Stadium (kr.m. / short film)
1959 Diabeł kulawy / The Lame Devil (kr.m., tylko współautor zdjęć/ short film, co-cinematographer only)
1959 Nie śpij, bo cię okradną / Don't Sleep or You'll Be Robbed (kr.m., tylko zdjęcia/ short film, cinematography only)
1959 STS 58 / STS '58 (kr.m., tylko zdjęcia / short film, cinematography only)
1959 Świat na nas czeka / The World is Waiting for Us (kr.m. / short film, tylko zdjęcia, cinematography only)
1960 Konflikty / Conflicts (kr.m. / short film)
1960 Śmierć i dziewczyna / Death and the Maiden (kr.m., tylko zdjęcia / short film, cinematography only)
1961 Plakat z drewna / Wooden Poster (kr.m., tylko zdjęcia / short film, cinematography only)
1961 Ułan i dziewczyna / Girl and Uhlan (kr.m., tylko zdjęcia / short film, cinematography only)
1961 Maszyna / The Machine (kr.m. / short film)
1962 Wizyta / The Visit (kr.m., tylko zdjęcia / short film, cinematography only)
1962 Litera / The Letter (kr.m. / short film)
1963 Duet / The Duo (kr.m. / short film)
1963 Fotel / The Chair (kr.m. / short film)
1964 Na jezdni / On the Roadway (kr.m. / short film)
1964 Pierwszy, drugi, trzeci... / First, Second, Third... (kr.m. / short film)
1966 Karol / Charles (kr.m. / short film)
1966 Wykres / The Graph (kr.m. / short film)
1968 Hobby / Hobby (kr.m. / short film)
1968 Ludzie rosną / People Growing (kr.m., tylko oprac. plast. / short film, visual design only)
1968 Desant / The Landing Operation (kr.m. / short film)
1969 Zbrodnia Stelli / Stella's Crime (kr.m. / short film)
1969 Sindbad pogrzebany / Sinbad Buried (kr.m. / short film)
1970 Podróż / The Voyage (kr.m. / short film)
1971 Jeśli ujrzysz kota fruwającego po niebie... / If You See a Cat Flying in the Sky... (kr.m. / short film)
1971 Zamek w lesie / A Castle in the Forest (kr.m. / short film)
1971 Differenzen / Differenzen (kr.m. / short film)
1972 Lamus / The Glory Hole (kr.m. / short film)
1972 Ogrodnik / The Gardener (kr.m. / short film)
1973 Arena / The Arena (kr.m. / short film)
1974 O królu Popielu / About Popiel the King (kr.m. / short film)
1975 Gorejące palce / Burning Fingers (kr.m. / short film)
1977 Problem / The Problem (kr.m. / short film)
1978 Skarpetka / A Sock (kr.m. / short film)
1978 Skok / The Leap (kr.m. / short film)
1981 Fatamorgana / Mirage (kr.m. / short film)
1983 Fatamorgana 2 / Mirage 2 (kr.m. / short film)
1983 XYZ... / XYZ... (kr.m. / short film)
1988 Rybką być / Being a Fish (kr.m. / short film)
1991 Novi Singers / Novi Singers (kr.m. / short film)
1991 Grande valse brillante / Grande valse brillante (kr.m. / short film)
1992 Humoreska Dvořáka / Dvořák's Humoresque (kr.m. / short film)
1992 Odgłosy wiosny / The Sounds of Spring (kr.m. / short film)
1995 Henryk Tomaszewski / Henryk Tomaszewski (śr.m.)
1995 Teresa Pągowska (rozmowa o malarstwie) / Teresa Pągowska (a Conversation on Painting) (kr.m. / short film)
1997 Dobranocka / The Good Night Story (kr.m. / short film)
2000 Klatka po klatce – Daniel Szczechura mówi o technice animacji / Frame by Frame – Daniel Szczechura Speaking on Animation Technique (kr.m., współreżyseria / short film, co-director)
2002 Hobby. Daniel Szczechura. Kilka filmów animowanych jednego autora / Hobby. Daniel Szczechura. Several animated films by one man (dł.m. / feature-length)