The joint project of Pierre Bastien, Małe Instrumenty and Piotr Welk is an unusual combination of audiovisual styles which are quite close to each other. The prepared music repertoire is a live premiere of the joint selection of compositions by Pierre Bastien and the group Małe Instrumenty, linked by a collective improvisation and graphic animation. The encounter of Bastien's inimitable mechanical orchestra and the extraordinary instruments and sound-emitting objects will be illustrated with expressive images and abstract graphic forms.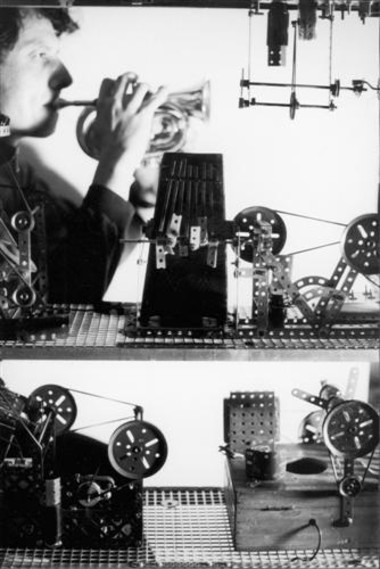 Małe Instrumenty
A music band focused in its sound search on the sphere of peculiar instruments, toys and noisy things - in other words, they are in love with all sound-emitting objects. They have worked with many artists including Mariusz Wilczyński and Alexander Sroczyński.

Pierre Bastien
Multi-instrumentalist, composer. His work is focused on solo performances and sound installations. He has worked with such artists as Pierrick Sorin, Robert Wyatt and Issey Miyake.

Piotr Welk
An outstanding graphic artist, assistant at the Multimedia Art Creation Lab (Pracownia Multimedialnej Kreacji Artystycznej) of Professor Stanisław Wieczorek. He works with a computer. He writes programmes based on random events, searching for simple algorithms capable of building complex and unique graphic forms.