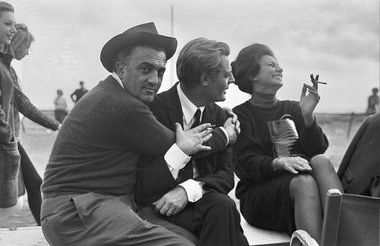 Federico Fellini, born in Rimini, a resort city on the Adriatic, was fascinated by the circuses and vaudeville performers that his town attracted. His education in Catholic schools also profoundly affected his later work, which, while critical of the Church, is infused with a strong spiritual dimension. After jobs as a crime reporter and an artist specializing in caricature, Fellini began his film career as a gag writer for actor Aldo Fabrizi. In 1943, Fellini met and married actress Giulietta Masina, who has appeared in several of his films and whom Fellini has called the greatest influence on his work. In 1945, he got his first important break in film, when he was invited to collaborate on the script of Open City, Roberto Rossellini's seminal work of the neorealist movement. In 1948, Rossellini directed L'Amore, one part of which was based on Fellini's original story Il Miracolo/The Miracle.
Lights of Variety was Fellini's directorial debut, in collaboration with the established Alberto Lattuada. Though Fellini's earliest films were clearly in the neorealist tradition, from the start his interest in and sympathy for characters' eccentricities and his penchant for absurdist, sometimes clownish humor, makes them distinctive.
Fellini's international breakthrough came with La Strada (1954). The film's impact is bolstered immeasurably by Nino Rota's unforgettable music, marking the beginning of a collaboration between the two men which would end only with Rota's death in 1979. After two very strong works - The Swindlers (1955) and Nights of Cabiria (1956), Fellini directed his two most influential masterworks: La Dolce Vita (1959) and 8 1/2(1963). "
Fellini's next film, Juliet of the Spirits (1965), was his first in color. Again starring Masina, whose career was at a low ebb and with whom Fellini had been having personal problems, Many critics called Fellini's next film his "ne plus ultra." Fellini Satyricon (1969), loosely based on extant parts of Petronius's Satyricon, was the most phantasmagorical of all Fellini's works. Then he created several very fine, more modest films, all marked by striking imagery, which diminished the distinctions between fiction film and documentary: The Clowns (1970), Fellini's Roma (1972), and potent Orchestra Rehearsal (1978). Perhaps Fellini's most acclaimed post-Satyricon film was Amarcord (1973), an accessible work which can be seen as a summation to that point of his autobiographical impulse (the title means I remember). Amarcord was the fourth Fellini film to win an Oscar as Best Foreign-Language Film, but as he continued making films in the 80s he found it increasingly difficult to find financial backing and distributors. Fellini's Casanova (1976), while perhaps not one of his most important films, was unusually, indeed strikingly, cold, filled stunning imagery which cannot be easily dismissed. And the Ship Sails On (1983), meanwhile, proved that his flair for flamboyant characterization had not lost its comic or satiric prowess Ginger and Fred (1985) has more than its share of touching and amusing moments as his two most important actors, Masina and Mastroianni. Intervista (1987) carried the reflectiveness of Fellini's later years around full circle. Last Fellini's completed film, Voice of the Moon (1990), considered by some critics as his most surreal film, wasa small film chock-full of references and last-minute thoughts, alternately strange and sad, an appropriate postscript to a film career filled with laughter and wonder at the bizarre circus of life.
Filmography:
1950 Światła variété / Luci del varieta / Lights of Variety
1952 Biały szejk / Lo sceicco Bianco / The White Sheik
1953 La strada / The Road
1953 Agencja matrymonialna / Agenzia matrimoniale / Marriage Agency (nowela w filmie Miłość w mieście / L'amore in cittá / Love in the City)
1953 Wałkonie / I vitelloni / Spivs
1955 Niebieski ptak / Il bidone / The Swindle
1957 Noce Cabrii / Le notti di Cabiria / Nights of Cabiria
1960 Słodkie życie / La dolce vita / The Sweet Life
1962 Kuszenie doktora Antoniego / Le Tentazioni del dottor Antonio / The Temptation of Doctor Antonio (nowela w filmie Boccaccio 70)
1963 Osiem i pół / Otto e mezzo / Eight and a Half
1965 Giulietta i duchy / Giulietta degli spiriti / Juliet of the Spirits
1968 Toby Dammit (nowela w filmie Opowieści niesamowite / Histoires extraordinaires / Tales of Mystery)
1969 Fellini-Satyricon / Satyricon
1970 Klowni / I clowns / The Clowns
1972 Rzym / Roma / Fellini's Roma
1973 Amarcord
1976 Casanova / Il Casanova / Fellini's Casanova
1979 Próba orkiestry / Prova d'orchestra / Orchestra Rehearsal
1980 Miasto kobiet / La cittá delle donne / City of Women
1983 A statek płynie / E la nave va / And the Ship Sails On
1985 Ginger i Fred / Ginger e Fred / Ginger and Fred
1987 Wywiad / Intervista / Fellini's Intervista
1990 Głos księżyca / La voce della luna / The Voice of the Moon