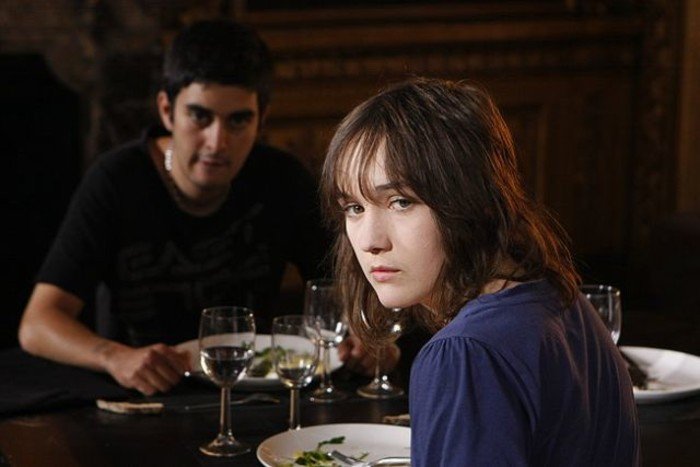 Hadewijch dir. Bruno Dumont
Hadewijch dir. Bruno Dumont
Hadewijch
France 2009 / 105'
director: Bruno Dumont
screenplay: Bruno Dumont
cinematography: Yves Cape
editing: Guy Lecorne
cast: Julie Sokolowski, Yassine Salime, David Dewaele, Karl Sarafidis, Brigitte Mayeux-Clerget
producer: Jean Brehat, Rachid Bouchareb, Muriel Merlin
production: 3B Productions
awards: Toronto IFF 2009 - FIPRESCI Award
polish distributor: Stowarzyszenie Nowe Horyzonty
release date: 7.01.2011
Céline, the daughter of a government minister, is a theology student. When she becomes a novice nun in a Catholic cloister, she takes the name Hadewijch, after a medieval Flemish mystic and poet. Separated by time, the two women are connected by the nature of their boundless love of God, marked by yearning and the need for physical contact. Céline's confrontation of the realities that surround her is painful. The exalted passion of her faith goes beyond accepted standards and her insatiable hunger for God's grace concerns the nuns of the cloister. After they accuse the girl of pride, she is expelled. On her return to Paris she meets Yassine, a young Muslim man living in a suburban housing project. His brother Nassir leads Islamic community meetings, during which Céline meets kindred spirits who are similarly devoted to God. As the line between devotion and extreme fundamentalism begins to blur, Céline joins a terrorist group.
Dumont's film desperately searches for wholeness in the character of Hadewijch and her aura of nordic mysticism. In a world that can be subtly cruel, is it possible to achieve inner peace by recreating the once perfect union of harmonious grace and nature?
Agnieszka Szeffel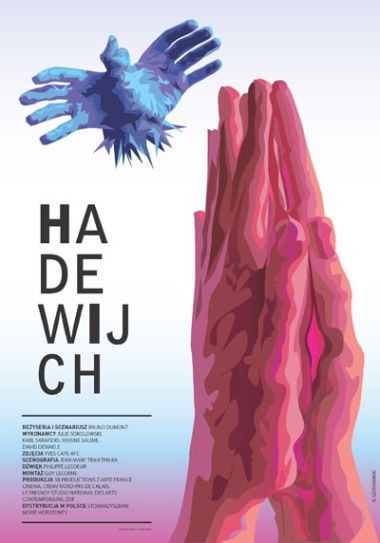 Bruno Dumont
Bruno Dumont was born in 1958 in northern France, in Bailleul. It is there - a small town in French Flanders, between Lille and Dunkerque - that Dumont shot his first two movies, The Life of Jesus (1997) and Humanité(1999). Both films were acclaimed at the Cannes Film Festival: the first one got a special mention from the Golden camera jury; the second one got the Grand Prize of the Jury, plus Best Actor and Best Actress awards. Dumont quickly imposed himself as a unique filmmaker, going against the tide of contemporary French production.
According to him cinema is another way - with more fun - of practicing philosophy. Dumont indeed used to study philosophy (religions and aesthetic of cinema) and then became philosophy teacher in high school. Besides his academic activities he learnt how to be a director by making command movies.
With his camera, mastering visual grammar, Dumont stopped shooting machines tools to focus on the essence of men, what leads them, what makes them tragic. On these sacred-oriented topics he keeps a nonbeliever approach by shooting bodies, feelings, nature, with no intellectual content. How realistic sequences in Dumont's films might appear (with non professional actors), there is no social realism in his cinema: what Bruno Dumont seeks, either shooting in Flanders (The Life of Jesus, Humanité, Flanders in 2006), in California (Twentynine Palms, 2003) or in Paris (Hadewijch, 2009), it is what he calls the "sweet light" hidden in any human being despite the violence and ugliness of our world. Hors Satan is his 6th film.
Filmpography
1997 Życie Jezusa / La vie de Jésus / The Life of Jesus
1999 Ludzkość / L'humanité / Humanity
2003 Twentynine Palms
2006 Flandria / Flandres / Flanders
2009 Hadewijch
2011 Poza szatanem / Horse Satan / Outside Satan