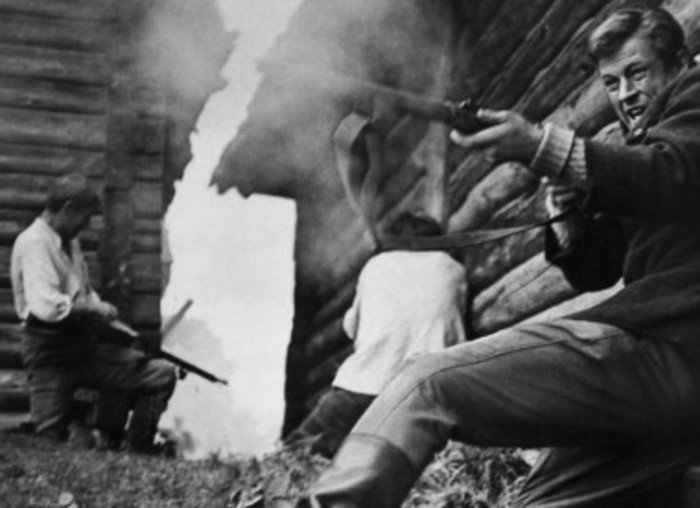 Nobody Wanted to Die dir. Vytautas Žalakevičius
Nobody Wanted to Die dir. Vytautas Žalakevičius
Lithuanian Cinema
Film index of the section Lithuanian Cinema

Special programme is organised by the Lithuanian Film Centre and T-Mobile New Horizons with the support from the Ministry of Culture of the Republic of Lithuania and the Lithuanian Embassy in Warsaw.
How much does the average Pole know about Lithuania? They know "Lithuania, my fatherland," something about the Eastern borderlands that Lithuanians speak a difficult, non-Slavic language; the more enlightened among us might say something about the Union of Lublin and the Polish-Lithuanian Commonwealth. And then there are jokes about peasants, of course-although these are really about Latvians. Lithuania is the neighbor that we know the least about: it is lumped together with the other Baltic states, is overlooked as a must-see tourist destination, and is seen unequivocally as a post-Soviet country where things are worse than they are here. But with so many shared historical experiences, one might expect more common interests.
And so the review of Lithuanian cinema to take place during the 15th T-Mobile New Horizons International Film Festival will be that much more important. It will not only provide audiences with an opportunity to gain some insight into both the classic and contemporary films coming out of our northern neighbor, but also a chance to take a closer look at Lithuanian culture: that of the Soviet era-filled with the language of Aesop-which communicated with audiences through a special code that made it possible to circumvent the censors; that of the turbulent period of transformation, when the state monopoly on culture fell apart, and independent producers came into being; and, finally, that of the most recent period, which speaks with an original, expressive voice that is can be heard with ever more confidence at important events and in international markets. In other, more emphatic terms, this review will be an opportunity to get a little closer to the Lithuanian soul.
After this broad division into three periods, it is clear that the respective stories of Polish and Lithuanian cinema are nearly identical. The difference is that, after the perestroika era, production in Lithuania did not pick up the same way that it did here. Out of necessity, a lack of resources, and new production models, filmmakers sought refuge in documentaries: heading out into the streets with their cameras, they were able to record the political and cultural revolution in full swing. It was only with the emergence and development of Kinema-and, as a result, other production studios as well-that what can tentatively be called New Lithuanian Cinema was born.
Kinema's founder and its leading filmmaker to this day, Šarūnas Bartas, will have his own retrospective during the festival. Works by Kinema's other filmmakers-the young blood of Lithuanian cinema, directors like Ignas Jonynas, Mykolas Vildžiūnas, Kristina Buožytė, and others-will be presented along with the most interesting examples of cinema from before the transformation, including Vytautas Žalakevičius's "red Western" Nobody Wanted to Die and Algirdas Dausa and Almantas Grikevičius's Feelings, which is recognized as the greatest Lithuanian film of all time.
The only study of Lithuanian cinema produced up until now is Anna Mikonis's outstanding work Poetycki kinematograf (Poetic Cinema), in which the author-she will be one of the guests at the review-focuses, in large part, on the cinema from Vilnius and the surrounding area that has tentatively been called "poetic." A glance at the most recent accomplishments by Lithuanian filmmakers is enough to say, however, that this term does not apply equally to everything. In addition to "poetic" cinema, films are also being made today that border on cinematic extremes, that boldly flirt with various genres, that are more dreamlike than poetic. These films will also be screened at New Horizons. So get out your highlighters and start marking the titles you want to see.
Jacek Dziduszko