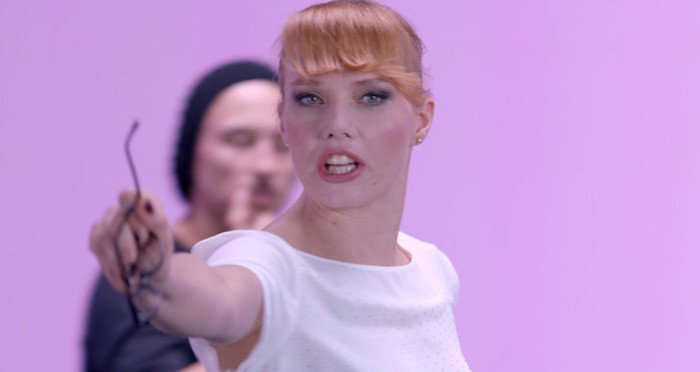 No Matter How Hard We Tried
Między nami dobrze jest
Poland 2014, 70'
director: Grzegorz Jarzyna
screenplay: Grzegorz Jarzyna (based on Dorota Masłowska's play)
cinematography: Radosław Ładczuk
editing: Rafał Listopad
music: Piotr Domiński, Grzegorz Jarzyna
sound: Dominika Kotarba
cast: Aleksandra Popławska, Danuta Szaflarska, Magdalena Kuta, Maria Maj, Adam Woronowicz, Rafał Maćkowiak, Agnieszka Podsiadlik, Roma Gąsiorowska-Żurawska, Katarzyna Warnke, Lech Łotocki
production: TR Warszawa, Narodowy Instytut Audiowizualny
Polish distributor: Stowarzyszenie Nowe Horyzonty
release date: 9.01.2015
A film adaptation of the eponymous play by Dorota Masłowska that was presented by Grzegorz Jarzyna on stage at TR Warszawa, where it enjoyed huge success. Masłowska wrote the play in 2008 upon a commission from TR Warszawa, and it was staged a year later at Marszałkowska 8. No Matter How Hard We Tried is a story about Polish society during the time of the transformation that is full of grotesque dialogues consisting of twisted quotes from pop culture; mockery of the language used in commercials, magazines, and tabloids; and national stereotypes. The heroines are three women from three different generations living below the poverty line in a cramped bachelor's apartment in Warsaw: a gloomy old woman in a wheelchair; her daughter, Halina; and her granddaughter, a little head banger. The panorama of characters is filled out by their neighbors: Bożena, who hands out fliers, and the director of the film The Horse That Rode Horseback, as well as two actors, a television presenter, and Edyta, a woman hoping to save various kinds of "poor people."
"I confronted generations: languages, ways of thinking and functioning, different every day realities in order to bring out the discord, the non-existence of someone who could be described as "the statistical Pole", the lack of a platform on which all this could meet and could be described by the word "we". Everything in the play is rather gruesome and exaggerated but it seems to me that for the first time I actually say something potentially good. I certainly do not express a direct positive message, but this is my first text in which I did not write: "Oh, what an awful country we live in, how drab!" On the contrary, this is my affirmation of being a Pole and Polishness , which is at present totally sneered at, has mud slung at it and is treated, at least in my generation, as a flaw, as a slap in the face from fate." (Dorota Masłowska)
Grzegorz Jarzyna
Born in 1968 in Chorzów, Grzegorz Jarzyna is one of Poland's best-known theater artists, who revolutionized Polish theater. He studied Philosophy at Jagiellonian University and Direction at the National School for Theater and Acting in Krakow. Since 1998, he has been the artistic director at TR Warszawa (the former Teatr Rozmaitości), one of the most innovative theaters in Poland. Between 2006 and 2013, he was also the managing director.