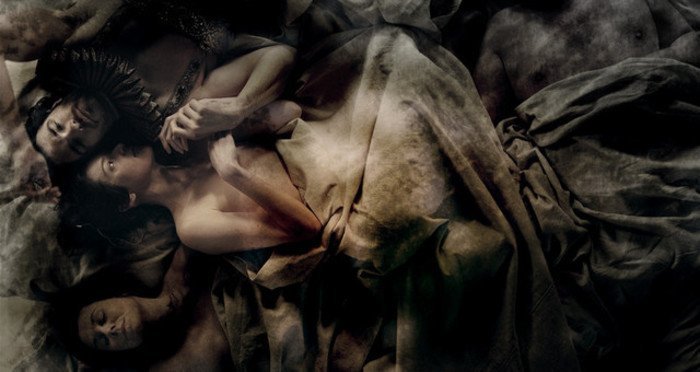 Goltzius and the Pelican Company dir. P. Greenawa
Goltzius and the Pelican Company dir. P. Greenawa
Goltzius and the Pelican Company
UK, Netherlands, France, Croatia 2012 / 128'
director: Peter Greenaway
screenplay: Peter Greenaway
cinematography: Reinier van Brummelen
editing: Elmer Leupen
music: Marco Robino
cast: Ramsey Nasr, F. Murray Abraham, Alba Rohrwacher, Vincent Riotta, Flavio Parenti, Halina Reijn
producer: Kees Kasander, Mike Downey, Catherine Dussart, Suza Horvat, Igor Nola, Sam Taylor
production: K asander Film Company, Film and Music Entertainment, Catherine Dussart Productions, MP Film, Netherlands Fund for Film, Rotterdam Film Fund, Centre National du Cinéma, Eurimages
polish distributor: Stowarzyszenie Nowe Horyzonty
release date: 7.02.2014
The talented painter and engraver Hendrik Goltzius attempts to convince the Margrave of Alsace to finance publishing an erotic version of the Old Testament. It would be tough to find a better motif for a Peter Greenaway film. The director is a rebel and avant-garde artist, an experimenter who blazes a trail for new definitions of cinematic narration. In Goltzius, Greenaway once again looks for unobvious analogies between classic painting and postmodernist film language, offering viewers a sensual impression more than a biopic. Goltzius and the Pelican Company is the second of Greenaway's Dutch Masters trilogy, to be completed in 2016 with a biography of Hieronymus Bosch.
Peter Greenaway
Peter Greenaway (born 1942) – an educated painter, he started his career with experimental conceptual films in the 1970s; he became famous for his historic and culinary reconstructions of the 1980s, such as The Draughtsman's Contract and The Cook the Thief His Wife & Her Lover. Then, in the 1990s, came his controversial interpretations of great European and Japanese literature in Prospero's Books and The Pillow Book. Among the best-known films by Greenaway are: Drowning by Numbers, The Belly of an Architect and A Zed & Two Noughts. His works are characteristic with their visual momentum, distance from reality and peculiarly theatrical style of imaging. With multiple cultural references and experimental combinations of styles they are recognised as the crowning of film postmodernism. Greenaway has been fascinated with new media, creating video-installations, short experimental films, directing theatre and opera performances and working as a VJ, too.
Selected filmography
1985 Zet i dwa zera / Zed & Two Naughts
1987 Brzuch architekta / Belly of an Architect
1988 Wyliczanka / Drawning by Numbers
1999 8 i pół kobiety / 8 ½ Women
2007 Nightwatching
2008 Rembrandt: oskarżam!... / Rembrandt's J'Accuse!...
2012 Goltzius and the Pelican Company
2013 Just in Time (segment in 3x3D)