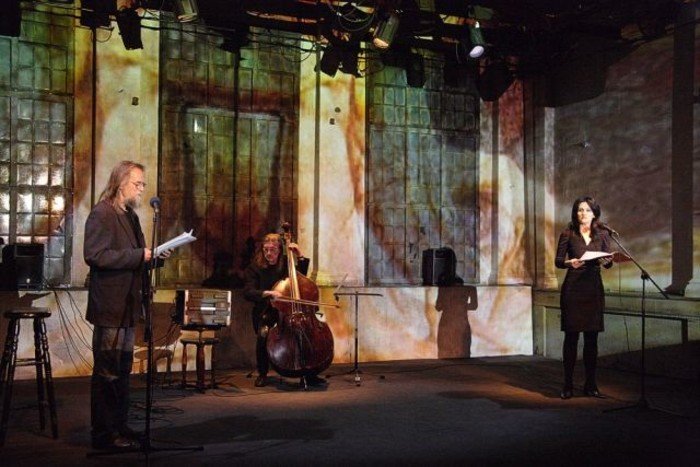 Bogdan Mizerski
The tree of angels. The life and death of William Blake
July 20, 8 p.m.
Nowe Horyzonty Cinema, Cinema No. 3
Bogdan Mizerski is not only an excellent instrumentalist – he is also a composer, a lyricist and a music producer, who creates and records music for theatre, film and pantomime. His approach to the double bass goes far beyond the canonical use of that instrument – in his hands, it is not just one instrument making up the rhythm section, but a lead instrument whose sound is the centre and main structure of the song, irrespective of whether it is a well-thought out composition, or a spontaneous improvisation. The most important thing for Mizerski is experimentation, in which the sound of the double bass is most frequently linked with electronic music. The artist is continuously looking for new ways of expressing himself, and his ability to link words and music has become his trademark. When faced with classic lyrics he tries to give them a new, modern sound setting, one suitable for our times – his songs always sound modern, irrespective of whether they are accompanying texts from Cyprian Norwid, Jan Twardowski, Meister Eckhart, The Book of Psalms or The Little Flowers of St Francis.
For more than 35 years, Bogdan Mizerski has been working in cooperation with the poet, translator and essayist Tadeusz Sławek, with whom he presents unconventional concerts which integrate word and sound under the title of Essays for voice and double bass. Mizerski began his solo career in 1980. He has worked with Teatr Witkacego in Zakopane, Akademia Ruchu, Wrocław's Teatr Pantomimy, Teatr Elizabeth Czerczuk in Paris, and Teatr Lota Zbigniewa Waszkielewicza. He has appeared on stage with the American Rabbi Shlomo Carlebach, as well as the dancers Iliana Alvarado and Alma Yoray from the USA. He has made art-house films, linking his own music with modern Polish art (that of Zdzisław Beksiński, Magdalena Abakanowicz, Henryk Waniek, Andrzej Szewczyk, Jerzy Duda-Gracz, and Roman Kalarus). He has played in musical groups, for example Strajk 80, Orator Magic, M3, Poesy Jazz Fraction, Asocjacja Andrzeja Przybielskiego, O.KO and many more. He has taken part in festivals of modern music, electronic music, audio-art, jazz, blues, rock and ecclesiastical music, and in theatrical and film festivals. He has worked with a whole array of famous multimedia artists, jazz musicians and improvisers. He has presented his music in art galleries, museums, churches, libraries, theatres, clubs, concert halls and many other locations that are full of magic and metaphysics. He also runs therecord company Off Records.
At this year's T-Mobile New Horizons festival, he is going to appear with the latest version of Essays for voice and double bass, entitled The Tree of Angels. The Life and Death of William Blake. Apart from Bogdan Mizerski himself, who composed the music and who will be playing the double bass, Tadeusz Sławek, who was responsible for the words, will be joining him on stage, as will the soprano Joanna Kściuczyk-Jędrusik, the sousaphonist Fryderyk Mizerski, and Ewa Satalecka who is in charge of the visual-film setting.