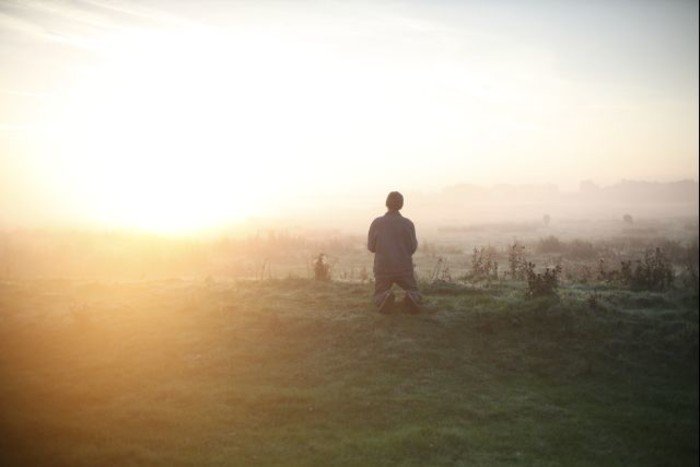 Outside Satan dir. Bruno Dumont
Outside Satan dir. Bruno Dumont
Outside Satan
Poza szatanem / Hors Satan
France 2011 / 110'
director: Bruno Dumont
screenplay: Bruno Dumont
editing: Basile Belkhiri
cinematography: Yves Cape
cast: David Dewaele, Alexandra Lemâtre, Aurore Broutin
producer: Rachid Bouchareb, Jean Bréhat
production: 3B Productions
awards: Prix de l'Age d'or 2011 (Cinémathèque de Belgique)
polish distributor: Stowarzyszenie Nowe Horyzonty
release date: 24.02.2012
On the sand dunes among swamps liest the village of Boulogne-sur-Mer on the French coast of the English Channel. A guy lives, who may best be described by David Lynch's phrase, a guy by the way. He ambles around the neighborhood, makes bonfires, hunts, kneeling from time to time, frozen in a prayer pose and staring into the horizon, but also commiting acts of violence and performing miracles with the same stony face. Is this an angel or demon, the embodiment of evil or deliverance? Outside Satan is one of Dumont's most minimalist films – visually ascetic, almost devoid of dialogues, based on repetitions. Fascinating, indeed.
Kuba Mikurda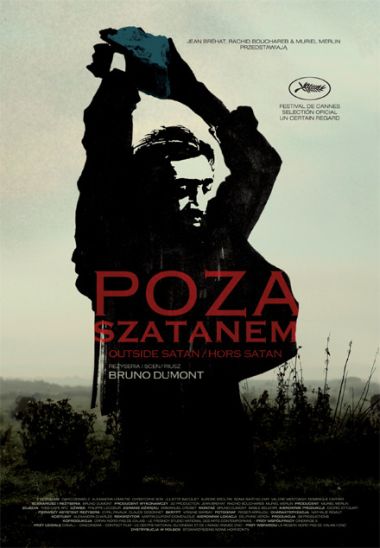 Bruno Dumont
Bruno Dumont was born in 1958 in northern France, in Bailleul. It is there - a small town in French Flanders, between Lille and Dunkerque - that Dumont shot his first two movies, The Life of Jesus (1997) and Humanité(1999). Both films were acclaimed at the Cannes Film Festival: the first one got a special mention from the Golden camera jury; the second one got the Grand Prize of the Jury, plus Best Actor and Best Actress awards. Dumont quickly imposed himself as a unique filmmaker, going against the tide of contemporary French production.
According to him cinema is another way - with more fun - of practicing philosophy. Dumont indeed used to study philosophy (religions and aesthetic of cinema) and then became philosophy teacher in high school. Besides his academic activities he learnt how to be a director by making command movies.
With his camera, mastering visual grammar, Dumont stopped shooting machines tools to focus on the essence of men, what leads them, what makes them tragic. On these sacred-oriented topics he keeps a nonbeliever approach by shooting bodies, feelings, nature, with no intellectual content. How realistic sequences in Dumont's films might appear (with non professional actors), there is no social realism in his cinema: what Bruno Dumont seeks, either shooting in Flanders (The Life of Jesus, Humanité, Flanders in 2006), in California (Twentynine Palms, 2003) or in Paris (Hadewijch, 2009), it is what he calls the "sweet light" hidden in any human being despite the violence and ugliness of our world. Hors Satan is his 6th film.
Filmpography
1997 Życie Jezusa / La vie de Jésus / The Life of Jesus
1999 Ludzkość / L'humanité / Humanity
2003 Twentynine Palms
2006 Flandria / Flandres / Flanders
2009 Hadewijch
2011 Poza szatanem / Horse Satan / Outside Satan