Code Blue dir. Urszula Antoniak
Code Blue dir. Urszula Antoniak
Code Blue
Netherlands, Denmark 2011, 81'
director: Urszula Antoniak
screenplay: Urszula Antoniak
cinematography: Jasper Wolf
editing: Nathalie Alonso Casale
music: Ethan Rose
cast: Bien de Moor, Lars Eidinger, Annemarie Prins, Sophie van Winden, Christine Bijvanck, Hans Kesting
producer: Arnold Heslenfeld, Floor Onrust, Frans van Gestel, Joost de Wolf, Marie Cecilie Gade
production: Family Affair Films, IDTV Film , Zentropa Entertainments 5
awards: Nederlands Film Festival 2011(Golden Calf Award) - best cinematography, best sound; Batumi International Art-House Film Festival 2011 - best actress
polish distributor: Stowarzyszenie Nowe Horyzonty
release date: 13.01.2012
Marian is a nurse almost completely absorbed in her work at the hospital. She takes care of the dying, assists them in the moments of death, sometimes she pushes it ahead. She collects small objects which used to belong to the late patients. She lives in an almost completely empty flat and avoids people. There are moments when she yearns for intimacy – painfully and with her whole being. One day she notices a new neighbour. They are united by a peculiar event – they both witness the scene of a brutal rape. A shared act of voyeurism gives rise to the bond whose climax will be constituted by a bitter end.
Code Blue, Urszula Antoniak's second feature film following a well-received Nothing Personal, was one of the suggestions from the section Fifteen Directors, which triggered heated debates during this year's Cannes Festival. It aroused extreme reactions, from praise to the events involving leaving the room ostentatiously. 'Code Blue' is a challenge, a kind of film which is close to bringing about the feeling of physical fatigue, said the director. I hope that this time I moved a step further, took a greater risk. But this is not what I wanted to achieve – it's sink or swim, and I want to check whether I manage not to drown.
Kuba Mikurda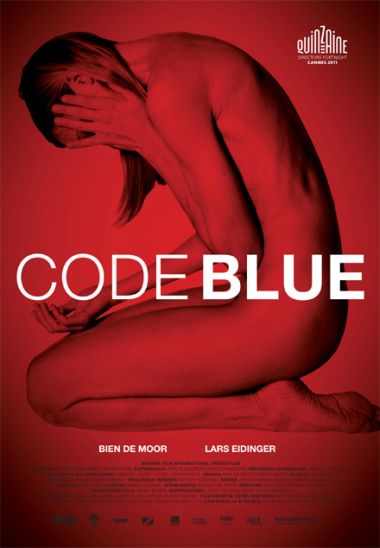 Urszula Antoniak
A Polish director and screenwriter who lives in the Netherlands. It is there that she made his first feature film, Nothing Personal, which was recognized as the best debut during the 62nd International Film Festival in Locarno in 2009. This work was also granted ten other awards; it was also nominated to the European Film Award. Her second feature film, Code Blue, was screened during this year's Cannes Festival. The critics say that the director is becoming a grand personality of the European film industry.
Filmpography
1993 Vaarwel (short)
2004 Bijlmer Odyssee (TV)
2007 Nederlands voor beginners (TV, short)
2009 Nic osobistego / Nothing Personal
2011 Code Blue