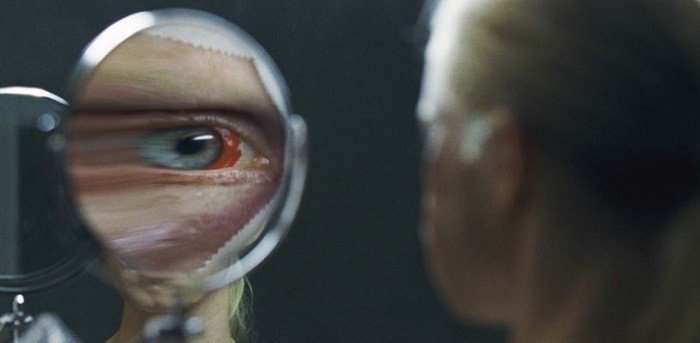 Goodnight Mommy
(Ich seh, Ich seh)
Austria 2014 / 99'
director: Severin Fiala, Veronika Franz
screenplay: Severin Fiala, Veronika Franz
cinematography: Martin Gschlacht
montaż: Michael Palm
music: Olga Neuwirth
cast: Susanne Wuest, Elias Schwarz, Lukas Schwarz
producer: Louis Oellerer, Ulrich Seidl
production: Ulrich Seidl Film Produktion GmbH
awards: Sitges IFF 2014 – Grand Prize in Silver; Thessaloniki IFF 2014 – FIPRESCI Award (International Competition); Belgrade IFF 2015 – Special Mention (Frontiers Programme); BAFICI 2015 – Best Photography (ADF Award); 15. T-Mobile New Horizons IFF 2015 - Audience Award
Polish distributor: Stowarzyszenie Nowe Horyzonty
release date: February 12, 2016
A surreal horror, a psychological thriller, or transgressive cinema? A shocking story by two documentary filmmakers-Severin Fiala and Veronika Franz, Ulrich Seidl's screenwriter-that, although defying traditional film conventions, uses classic methods to control the viewer's attention. Every frame is full of traps and clues. It may seem like they are following a straight line to the truth, but nothing could be more mistaken. Ten-year-old twins, Lucas and Elias, are spending their vacation at their family's summer house. They are inseparable and nearly identical, although one of them appears to be more timid and sensitive, and he submits to his less restrained brother's crazy ideas. Their mother returns from the hospital with her face wrapped in bandages. Irritable, unhappy, and in pain, she introduces a slate of new rules. In fact, she is so different from the sweet woman the boys remember that they begin to suspect more and more with each passing day that she is not who she claims to be. They form a common front against her increasingly aggressive behavior, taking drastic measures in order to discover just what is behind their mother's suffering.
Severin Fiala
He was born in Vienna in 1985, and has been watching, writing and making films since the age of 11. He studied at the Film Academy in Vienna, worked for the Red Cross. Severin Fiala has co-directed the prize-winning short film Elephant Skin (2009), with Ulrike Putzer. For the first time co-directing with Veronika Franz, the feature documentary Kern (2012). Goodnight Mommy (2014) is his latest film.
Selected filmography
2009 Elefantenhaut / Elephant Skin (short)
2012 Kern (doc.)
2013 Dreh & Trink / Shoot & Drink (short, doc.)
2014 Widzę, widzę / Ich seh, Ich seh / Goodnight Mommy
Veronika Franz
Born in Vienna 1965, works as a journalist for the austrian daily newspaper Kurier, writes concepts and screenplays for documentaries and feature films in collaboration with Ulrich Seidl (Dog Days, Import/Export, Paradise Trilogy), and has two children. Kern was her directing debut. Goodnight Mommy is her latest film.
Filmography
2012 Kern (doc.)
2014 Widzę, widzę / Ich seh, Ich seh / Goodnight Mommy