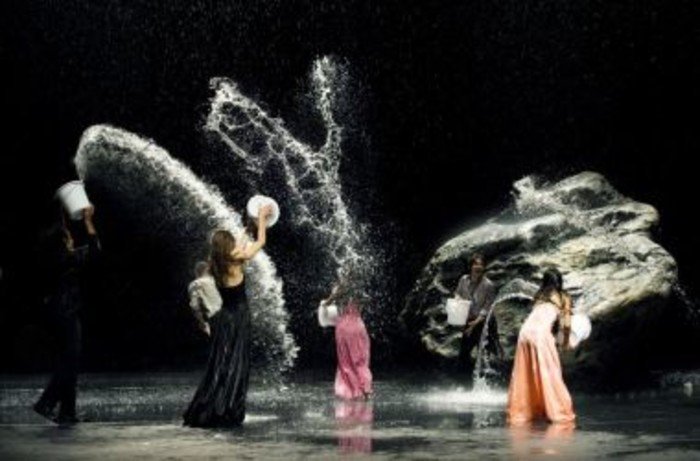 Pina dir. Wim Wenders
Pina dir. Wim Wenders
Pina
Germany, France, UK 2011 / 103'
director: Wim Wenders
screenplay: Wim Wenders
cinematography: Hélène Louvart, Jorg Widmer
editing: Toni Froschhammer
music: Thom
cast: Regina Advento, Malou Airaudo, Ruth Amarante, Jorge Puerta, Pina Bausch, Rainer Behr, Andrey Berezin
producer: Wim Wenders, Gian-Piero Ringel, Chris Bolzli, Claudie Ossard
production: Neue Road Movies, Eurowide Film Production, Zweites Deutsches Fernsehen, ZDFtheaterkanal, ARTE, Tanztheater Wuppertal, Recorded Picture Company, Pictorion_das Werk
awards: German Film Awards 2011 – Best Documentary, European Film Award - Best Documentary
polish distributor: Stowarzyszenie Nowe Horyzonty
release date: 21.10.2011
Pina is not a biography of choreographer, Pina Bausch, but Wim Wenders' homage to her work by and a hymn to art. In this subtle and delicate film, the German director stands up for the most fragile values – feelings, beauty, and respect for fellow human beings.
Wenders managed to record Bausch's most important performances, The Rite of Spring, Vollmond, and Café Müller as well choreography performed on the streets of Wuppertal, Germany. The entire narration blooms through these performances, and, though the film has virtually no dialogue, the dancers' beautifully use their bodies as means of expression.
Pina taught me that it is not necessary to flood the audience with streams of words, said Wenders. She opened my eyes to all that you can say with gestures or by creating an appropriate space.
He delayed production of Pina for over 20 years to faithfully show the dancers' space on screen. He waited until cameras enabled him to reconstruct the world created by Bausch on stage in cinematic form. Now, resorting to 3D technology, the director of The Sky over Berlin, blazes a new cinematic path. He proves the third dimension is so much more than a gimmick, once again enabling the 10th muse to be at the service of great art.
Krzysztof Kwiatkowski
Wim Wenders
Actual name: Ernst Wilhelm Wenders. One of Germany's best-known contemporary directors was born in 1945 in Düsseldorf. He studied medicine and philosophy. However, he interrupted his studies and went to Paris. On his return to Germany, he enrolled at the Film and Television School Munich, and, beginning 1971, started working in film directing and production. From 1996, he has been the President of the European Film Academy; he also lectures at the Hamburg Academy of Fine Arts. Wenders lives and works in Berlin and in the United States. Before Pina, he made two short films using 3D technology – Il Volo and If Buildings Could Talk.
Selected filmography
1967 Schauplätze (short)
1970 Lato w mieście / Summer in the City
1984 Paryż, Texas / Paris, Texas
1987 Niebo nad Berlinem / Der Himmel uber Berlin / Wings of Desire
1994 Lisbon Story
1999 Buena Vista Social Club (doc.)
2005 Nie wracaj w te strony / Don't Come Knocking
2008 Spotkanie w Palermo / Palermo Shooting
2011 Pina (doc.)